What is alcoholism, or alcohol use disorder?
Alcoholism has been known by a variety of terms, including alcohol abuse and alcohol dependence. Today, it's referred to as alcohol use disorder.
It occurs when you drink so much that your body eventually becomes dependent on or addicted to alcohol. When this happens, alcohol becomes the most important thing in your life.
People with alcohol use disorder will continue to drink even when drinking causes negative consequences, like losing a job or destroying relationships with people they love. They may know that their alcohol use negatively affects their lives, but it's often not enough to make them stop drinking.
Some people may drink alcohol to the point that it causes problems, but they're not physically dependent on alcohol. This used to be referred to as alcohol abuse.
What causes it?
The cause of alcohol use disorder is still unknown. Alcohol use disorder develops when you drink so much that chemical changes in the brain occur. These changes increase the pleasurable feelings you get when you drink alcohol. This makes you want to drink more often, even if it causes harm.
Eventually, the pleasurable feelings associated with alcohol use go away and the person with alcohol use disorder will engage in drinking to prevent withdrawal symptoms. These withdrawal symptoms can be quite unpleasant and even dangerous.
Alcohol use disorder typically develops gradually over time. It's also known to run in families.
What are the risk factors?
Although the exact cause of alcohol use disorder is unknown, there are certain factors that may increase your risk for developing this disease.
Known risk factors include having:
more than 15 drinks per week if you're male
more than 12 drinks per week if you're female
more than 5 drinks per day at least once a week (binge drinking)
a parent with alcohol use disorder
a mental health problem, such as depression, anxiety, or schizophrenia
You may also be at a greater risk for alcohol use disorder if you:
are a young adult experiencing peer pressure
have low self-esteem
experience a high level of stress
live in a family or culture where alcohol use is common and accepted
have a close relative with alcohol use disorder
What are the symptoms?
Symptoms of alcohol use disorder are based on the behaviors and physical outcomes that occur as a result of alcohol addiction.
People with alcohol use disorder may engage in the following behaviors:
drinking alone
drinking more to feel the effects of alcohol (having a high tolerance)
becoming violent or angry when asked about their drinking habits
not eating or eating poorly
neglecting personal hygiene
missing work or school because of drinking
being unable to control alcohol intake
making excuses to drink
continuing to drink even when legal, social, or economic problems develop
giving up important social, occupational, or recreational activities because of alcohol use
People with alcohol use disorder may also experience the following physical symptoms:
alcohol cravings
withdrawal symptoms when not drinking, including shaking, nausea, and vomiting
tremors (involuntary shaking) the morning after drinking
lapses in memory (blacking out) after a night of drinking
illnesses, such as alcoholic ketoacidosis (includes dehydration-type symptoms) or cirrhosis

Self-testing: Do I misuse alcohol?
Sometimes it can be hard to draw the line between safe alcohol use and the misuse of alcohol. The Mayo Clinic suggests that you may misuse alcohol if you answer "yes" to some of the following questions:
Do you need to drink more in order to feel the effects of alcohol?
Do you feel guilty about drinking?
Do you become irritable or violent when you're drinking?
Do you have problems at school or work because of drinking?
Do you think it might be better if you cut back on your drinking?
The National Council on Alcoholism and Drug Dependence and AlcoholScreening.org offer more comprehensive self-tests. These tests can help you assess whether you misuse alcohol.
Professional diagnosis
Your doctor or healthcare provider can diagnose alcohol use disorder. They'll do a physical exam and ask you questions about your drinking habits.
Your doctor may ask if you:
drive when you're drunk
have missed work or have lost a job as a result of your drinking
need more alcohol to feel "drunk" when you drink
have experienced blackouts as a result of your drinking
have tried to cut back on your drinking but couldn't
Your doctor may also use a questionnaire that assesses alcohol use disorder to help diagnose your condition.
Typically, a diagnosis of alcohol use disorder doesn't require any other type of diagnostic test. There's a chance your doctor may order blood work to check your liver function if you show signs or symptoms of liver disease.
Alcohol use disorder can cause serious and lasting damage to your liver. Your liver is responsible for removing toxins from your blood. When you drink too much, your liver has a harder time filtering the alcohol and other toxins from your bloodstream. This can lead to liver disease and other complications.
How is it treated?
Treatment for alcohol use disorder varies, but each method is meant to help you stop drinking altogether. This is called abstinence. Treatment may occur in stages and can include the following:
detoxification or withdrawal to rid your body of alcohol
rehabilitation to learn new coping skills and behaviors
counseling to address emotional problems that may cause you to drink
support groups, including 12-step programs such as Alcoholics Anonymous (AA)
medical treatment for health problems associated with alcohol use disorder
medications to help control addiction
There are a couple of different medications that may help with alcohol use disorder:
Naltrexone (ReVia) is used only after someone has detoxed from alcohol. This type of drug works by blocking certain receptors in the brain that are associated with the alcoholic "high." This type of drug, in combination with counseling, may help decrease a person's craving for alcohol.
Acamprosate is a medication that can help re-establish the brain's original chemical state before alcohol dependence. This drug should also be combined with therapy.
Disulfiram (Antabuse) is a drug that causes physical discomfort (such as nausea, vomiting, and headaches) any time the person consumes alcohol.
You may need to seek treatment at an inpatient facility if your addiction to alcohol is severe. These facilities will provide you with 24-hour care as you withdraw from alcohol and recover from your addiction. Once you're well enough to leave, you'll need to continue to receive treatment on an outpatient basis.
What's the outlook for a person with alcohol use disorder?
Recovering from alcohol use disorder is difficult. Your outlook will depend on your ability to stop drinking. Many people who seek treatment are able to overcome the addiction. A strong support system is helpful for making a complete recovery.
Your outlook will also depend on the health complications that have developed as a result of your drinking. Alcohol use disorder can severely damage your liver. It can also lead to other health complications, including:
damage to brain cells
cancer in the GI tract
pancreatitis (inflammation of the pancreas)
nerve damage
changes in mental status, including Wernicke-Korsakoff syndrome (a brain disease that causes symptoms such as confusion, vision changes, or memory loss)
How can you prevent alcohol use disorder?
You can prevent alcohol use disorder by limiting your alcohol intake. According to the National Institute on Alcohol Abuse and Alcoholism, women shouldn't drink more than one drink per day, and men shouldn't drink more than two drinks per day.
See your doctor if you begin to engage in behaviors that are signs of alcohol use disorder or if you think that you may have a problem with alcohol. You should also consider attending a local AA meeting or participating in a self-help program such as Women for Sobriety.
Stages of Alcoholism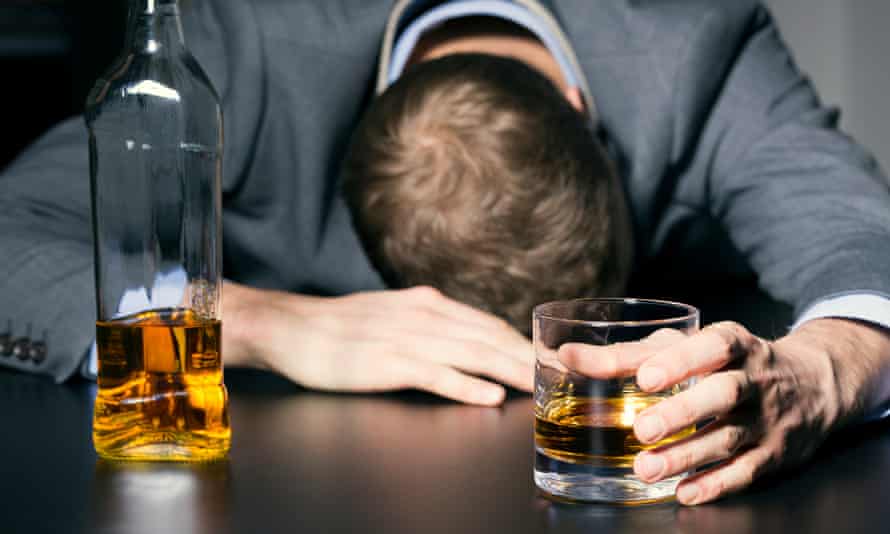 The path to addiction: Stages of alcoholism
Moderate drinking isn't a cause for concern in most adults. But when alcohol consumption gets out of control, you may find yourself on a dangerous path toward addiction.
The National Institute on Alcohol Abuse and Alcoholism estimates that 17 million American adults have alcohol use disorders. Another 855,000 Americans ages 12 to 17 years old have alcohol use disorders. It's important to remember that alcoholism isn't created overnight. It emerges out of long-term alcohol abuse.
Knowing the signs and symptoms of each stage can aid you in seeking help before your problem turns into dependence and addiction.
Stage #1: Occasional abuse and binge drinking
The first stage of alcoholism is a general experimentation with alcohol. These drinkers may be new to different forms of alcohol and likely to test their limits. This experimental stage is commonly seen in young adults.
These experimental drinkers also frequently engage in binge drinking. While they may not drink regularly, they consume exceptionally large amounts of alcohol at one time. Medline Plus characterizes binge drinking as:
for men, five or more alcoholic beverages within two hours
for women, four or more alcoholic beverages within two hours
Many binge drinkers exceed this amount. This is especially true for teens who attend parties where drinking is the primary activity. You might think binge drinking is safe when you only do it occasionally, but that couldn't be further from the truth.
Drinking large amounts of alcohol at one time is dangerous, and can even lead to coma or death. Furthermore, you may become dependent on the feeling you get from drinking and find that these episodes increase in frequency.
Stage #2: Increased drinking
Drinkers leave the experimental stage when their alcohol consumption becomes more frequent. Instead of just drinking at parties once in a while, you may find yourself drinking every weekend.
Increased alcohol consumption can also lead to drinking for these reasons:
as an excuse to get together with friends
to alleviate stress
out of boredom
to combat sadness or loneliness
Regular alcohol use is different from moderate drinking. There is usually a higher emotional attachment to it. A moderate drinker might pair a glass of wine with a meal, while a regular drinker uses alcohol to feel good in general. As increased drinking continues, you become more dependent on alcohol and are at risk of developing alcoholism.
Stage #3: Problem drinking
Frequent, uncontrolled alcohol abuse eventually leads to problem drinking. While any form of alcohol abuse is problematic, the term "problem drinker" refers to someone who starts experiencing the impacts of their habit.
You may become more depressed, more anxious, or start losing sleep. You may start to feel sick from heavy drinking, but enjoy its effects too much to care. Many drinkers at this stage are more likely to drink and drive or experience legal troubles as a result of their drinking.
There are also specific social changes related to problem drinking. These include:
relationship issues
decreased social activity because of erratic behavior
sudden change in friends
difficulty conversing with strangers
Stage #4: Alcohol dependence
Alcoholism has two facets: dependence and addiction. It's possible for a person to be dependent on alcohol, but not yet addicted.
Dependence forms after the problem drinking stage. At this point, you have an attachment to alcohol that has taken over your regular routine. You're aware of the adverse effects, but no longer have control over your alcohol consumption.
Alcohol dependence also means that you have developed a tolerance to drinking. As a result, you may have to drink larger quantities to get "buzzed" or drunk. Increased drinking has more damaging effects on the body.
Another characteristic of dependence is withdrawal. As you sober up, you may feel undesirable symptoms such as:
nausea that is unrelated to a hangover
body tremors
sweating
severe irritability
a racing heart
trouble sleeping
Stage #5: Addiction and alcoholism
The final stage of alcoholism is addiction. At this stage, you no longer want to drink just for pleasure. Alcohol addiction is characterized by a physical and psychological need to drink.
People with alcohol addiction physically crave the substance and are often inconsolable until they start drinking again. They may be addicted to other drugs as well.
Compulsive behaviors are prominent in addiction, and people with alcohol addiction often drink whenever and wherever they desire.
What's the outlook?
One of the biggest concerns with risky drinkers is when they don't think they have a problem. Any stage of alcoholism is problematic. Moderate drinking is the only safe way to consume alcohol, but drinking in general isn't safe for everyone.
Identifying problems with alcohol early can help prevent dependence and addiction. Medical treatment may be necessary to detoxify the body of alcohol and to obtain a fresh start. Since many people with alcoholism endure psychological problems, individual or group therapy may help in overcoming addiction.
The deeper into the stages of alcoholism you enter, the tougher it is to quit drinking. Long-term risks of heavy drinking include:
liver damage
heart disease
brain damage
mental health disorders, including an increased risk of suicide
Talk to your doctor if you think you might have a drinking problem.
Source: https://www.healthline.com